Blog
Posted on September 22, 2015 by MyNetWire
Over the last few years, search engine optimization (SEO) has become one of the most widely-accepted methods of increasing a business' branding over time. It's hardly surprising when you consider the facts that 70% of mobile searches lead to consumers taking action within an hour, and 48% of shoppers start their online experiences with a search engine.
And as SEO has become increasingly popular, so has WordPress, a site that offers clean, SEO-ready web design templates that's one of the best places to host one's content.
Considering the fact that content marketing generates an impressive three times the leads of outbound marketing, WordPress can be one of the best platforms on which to base your website designing and SEO efforts. But one wrong move on WordPress, and your SEO rankings could ultimately suffer. Here's a look at what you can do to avoid the three most common WordPress mistakes:
Non-search-friendly default settings
Before moving forward with any part of your web design, it's crucial to make your default setting search-friendly. To do so, simply use your targeted keywords in your permalink structure. Go to Options, then the Admin Panel. From here, select Permalinks and enter "/%category%/%postname%/%post_id" into the Custom text box.
Publishing duplicate content
Duplicate content, even if published unintentionally, can ruin your site's Google rankings. To avoid doing this, try to limit the number of tags and categories you assign to each post. If you have too many tags or assign too many categories to a post, you'll likely end up with duplicate content.
Cluttering your homepage with too many links
Lastly, be sure not to overload your WordPress homepage with links. As a general rule, keep your link count below 20 links, including both internal and external links. Additionally, be sure to stay clear of plugins that automatically add links, as they'll likely be low in quality and end up reducing your SEO content.
Have any other questions about using WordPress to your search engine optimization advantage? Ask us anything about WordPress and SEO services.
Posted on September 15, 2015 by MyNetWire
For the last few weeks, the Internet has been abuzz with Google's latest innovation -- its new logo.
While the logo retains the bright, primary color palette of Google's past logos, it stands out for its clean, distinctive font. In fact, Google designed an entirely new typeface for this logo, reported TheNextWeb.com. Called Product Sans, the font stands out for its clean lines and simple, eye-catching letters.
The choice to design a new logo with such a typeface was wholly intentional. The human brain is hard-wired to process visuals better; studies have found that 40% of web users respond better to information contained in visuals than to text content. As a result, a visually-appealing logo is one of the best ways for Google to convey its brand message to Internet users.
Additionally, Google's new logo is all about visibility. About 48% of mobile online shoppers today begin their shopping experiences on Google, and a stunning 70% of mobile searches lead to consumer action within an hour. When Google is essentially the gateway to the Internet, a sharp, eye-catching logo is an absolute must.
But what does Google's new logo mean for people working at professional web design and search engine optimization marketing companies? The answer may surprise you. Here's a look at three possible effects Google's latest logo redesign could have on website design:
A move toward clean, crisp design
As stated before, Google's new logo is built on clean lines and a simple, sans-serif font. This design principle will undoubtedly spread in the coming months as businesses move to make their website design more search-engine friendly.
The trend of minimalist web design is already on the rise across the web, but Google's new minimalist logo will only solidify minimalist design principles' status on top. When web users want to find the information they need on a website almost instantly, minimalist web design helps connect users with information quicker than ever.
In addition to its new logo, Google also made big changes to its user experience. Google has introduced a new four-dot animation that lets users know when Google is up and running. For example, the dots act like an equalizer when you give spoken commands and rotate in a circle when performing a web search. This enhanced user experience and ease of navigation will likely translate to the rest of the web as a result.
Posted on September 10, 2015 by MyNetWire
The Internet is becoming bigger and bigger every day. And soon, according to a Sept. 3 DazeInfo.com article, there will be 1 billion websites on the Internet total.
This major milestone indicates a few things. For one, it means more brands and businesses than ever before are implementing website design and search engine optimization (SEO) to get consumers' attention online. Additionally, with a growing number of brands present online, these brands will continue to ramp up their website design and SEO efforts to outpace their competitors.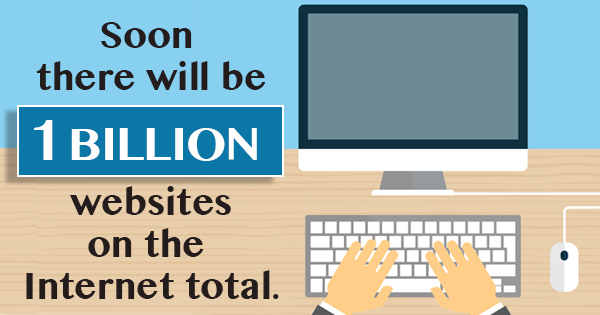 For your business' website, the presence of 1 billion sites is the perfect incentive to give your website design that long-overdue upgrade. This is especially true when you consider the fact that 40% of users respond more favorably to visuals than text, and that same percentage of users will navigate away from a website if it doesn't have mobile web design.
Not sure if your website design is ready for the upcoming billion-website milestone? Bring your business' website up to speed and boost your website design and SEO value by adopting these three design principles and tools:
Take a mobile-first approach to design
If your website doesn't yet have mobile-friendly or responsive web design, it's time to join the rest of the Internet on this trend. Last year, mobile web use surpassed desktop browsing for the first time in the Internet's history. Additionally, 44% of web users have said that they have a more difficult time navigating websites on smaller devices. These facts illustrate the need for all websites to have responsive web design, which fits your website's dimensions to fit mobile devices' smaller screens.
Implement mobile apps as services
Another key component of website design and SEO today is the use of mobile apps as services. Rather than create an app that acts as a destination or location, create an app that provides a useful service to the end user. This will keep engagement levels high and ultimately bring users back to your brand again and again.
Adopt user experience design
Lastly, user experience (UX) design is another key design concept gaining popularity as the Internet nears 1 billion sites. UX design puts the user first -- so all design choices are made with your customers in mind, ultimately optimizing their time on your website. This will, in the long run, make your customers happier with your website, resulting in expanded consumer loyalty and bigger brand power.